With summer upon us, what better time than now to create the perfect outdoor area and make the most of your outdoor space? Whether you have a large outdoor space or a small one, I'm sure you want to make full use of it.
The following patio spaces will give you plenty of inspiration to create the perfect backyard oasis. Whether you're looking to entertain guests or simply enjoy your personal space in quiet, your patio is yours to make your own.
Small Space Design
This SoCal patio has an abundance of bougainvilleas and antique accent lighting for a peaceful garden oasis feel. Designer Madeline Stuart chose rich wood furniture and decor in various shades of brown to create a feeling of comfort and naturalness.
Outdoor Technology
This elegant patio in Tarzana, California combines a built-in TV and fireplace to take outdoor relaxation to another level. The vintage lights add elegance and ambiance with a wooden pergola that feels like an extension of the interior, providing plenty of shade for the warmer days. The colorful throw pillows complement the clean and uncluttered space. This setup is perfect for watching a movie or a sports game and relaxing.
Extraordinary Lighting
This traditional San Diego patio designed by Western Pavers, Inc. includes a concrete paver fountain and a combination of simple string lights and pendant lights. Carefully placed lighting adds a sensual side to the design strategy and creates a sense of space. The comfortable furniture is perfect for resting and picking up a book while enjoying the fresh air.
Multilevel
This multi-level, multi-material deck by K&D Landscaping features Timbertech decks and artificial turf. Not only does the use of different materials help visually, but it is beneficial for multi-use as well. The concrete stepping stones match a custom poured-in-place fire pit and half-circle bench with a sloped backrest. A horizontal red fence complements the metal pergola and hammock for ultimate relaxation.
Creative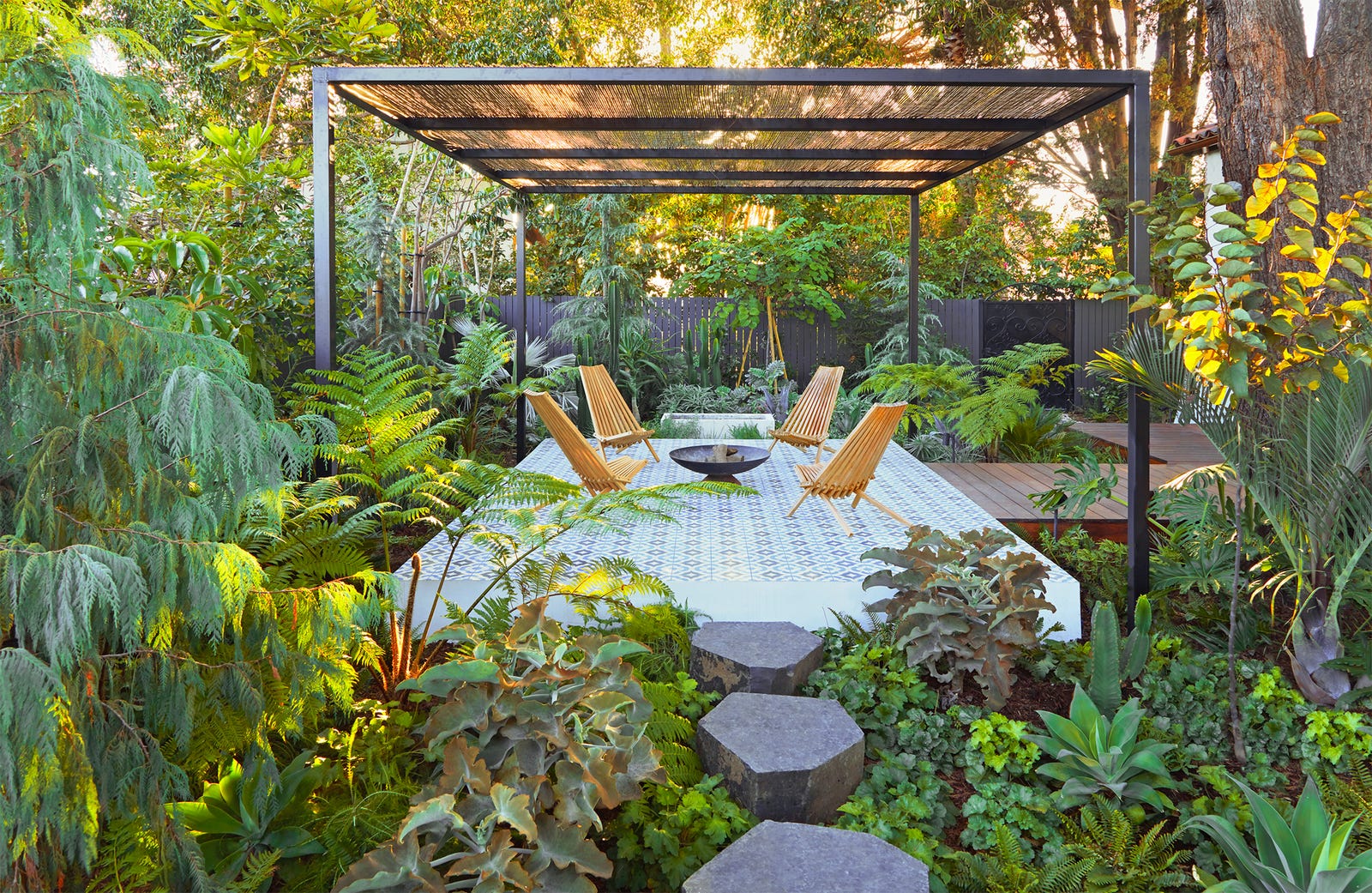 Founder of Terremoto and landscape designer, David Godshall, got innovative with the choice of the colorful tile in the middle of this deck and made sure to plant plenty of lush flora considering the lack of grass. The stone step pathway and bamboo pergola add a sense of adventure and finish off the exquisite design of this deck.
Contemporary
With its clean lines and modular form, this Orange County contemporary patio by California Home Studioscreates a peaceful atmosphere. A sleek black central table anchors the room with warm cream seat cushions. The mixture of textures is visually appealing with a lovely contrast and the addition of the bar has made the dream of al fresco dining a reality.
Here are some other popular additions to bring comfort to your outdoor living space and decorate your patio:
Storage hooks are a very stylish and practical addition, perfect for areas with limited space. Keep your area free of clutter and hang up your towels and hats!
Enjoy the outdoors at night by adding a heat lamp. Conveniently, you can put it in storage once the temperature rises.
Wall plants or potted plants add extra color and can beautify any outdoor space.
Convertible cooler tables are popular right now and make for the perfect two-for-one patio addition.
Keep anything within reach with a storage cart that you can roll indoors or fold up and store away between seasons.
If you're looking to add a shade structure and don't want to have a permanent structure such as a pergola consider adding a canopy, umbrella, or triangular sunshade.
You will more than likely want your patio for personal and social use. Therefore, it is a good idea to design a versatile patio. Here are some important things to consider before getting started.
Space: It's important to understand the size and space that you have to work with so make sure to measure beforehand and plan accordingly.
Privacy: Do you like the idea of open space or prefer a more secluded private area?

You can always turn your patio into an enclosure by adding ornamental foliage.

Levels: Is your space flat or are there slopes and uneven levels?

Multi-dimensional surfaces are great for uneven patios

Budget: Knowing your budget is necessary to start brainstorming design features and start on your project.
As summer quickly approaches, what changes will you make to your outdoor space?